Children's Stories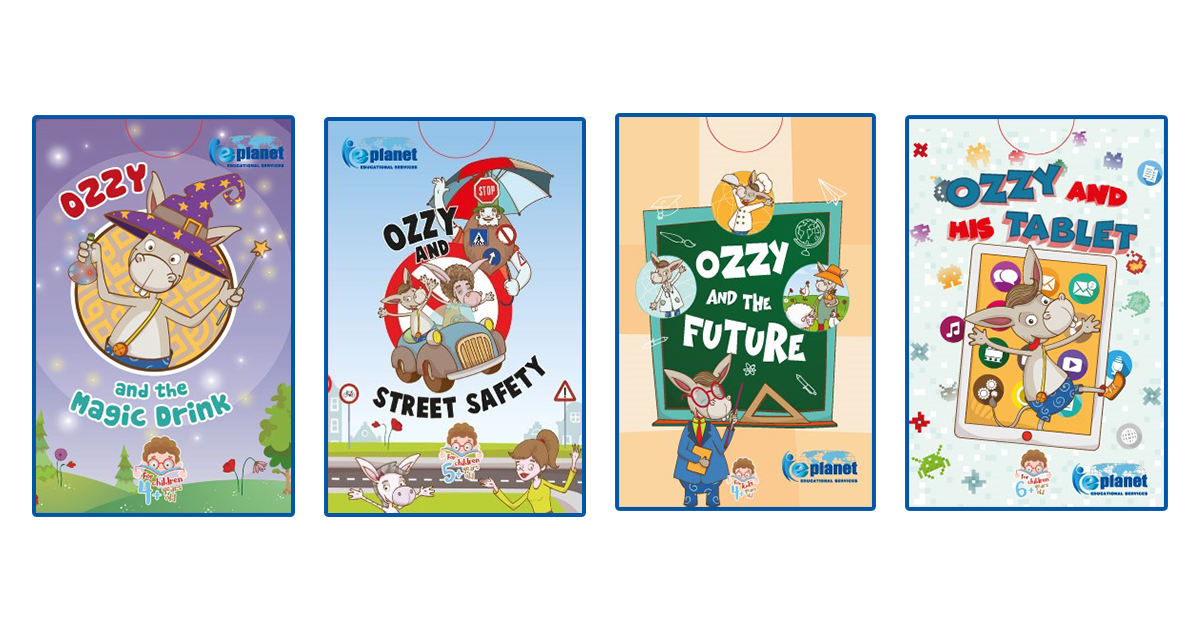 Are you wondering how English learning can be made easier and a lot more fun? We've got you covered! Just join Ozzy and his friends on amazing adventures that introduce young students to everyday words and phrases with the help of exciting stories that bring English to life.
Ozzy the donkey, Pella the kangaroo, Sam the hippo and the rest of the characters are ready to shake things up! The stories for children 4-7 years old are here to provide powerful language-learning opportunities and entertain young learners in a unique way. Ozzy and the Magic Drink and Ozzy and the Future (for children 4+ years old), Ozzy and Street Safety (for children 5+ years old) and Ozzy and His Tablet (for children 6+ years old) will make you wish you had learnt English that way too!
All the stories are based on the lovely E-planet cartoon characters, which are very popular with young learners, while the carefully chosen, multicultural content makes them suitable for every country and area around the world. Well, all cultures worldwide have always used the power of storytelling to pass knowledge on from one generation to another. But not all stories are right for second language learning. That's why it is important to use resources that have been carefully written with specific considerations in mind. The vivid colours, the fun illustrations, the appropriate length and the unique layout of these books can easily motivate our little students to continue reading and have fun as they easily identify with the main characters!
It's undeniable that all children like reading and listening to stories over and over again. This repetition helps them not only become familiar with key vocabulary and structures but also enrich their thinking and memory skills. Over time, they will understand more of the meaning and remember more of the language. And it is important that the E-planet stories offer strong, positive messages in an entertaining way – they help all students understand what can happen when they believe in themselves, spread positivity and pursue their dreams!
Extra tip for teachers: Ask children to use their imagination, draw their own pictures and label them, or even describe their favourite character or part of the story. And don't forget to use the full-coloured flashcards and the audio recordings (or the high-quality 3D animated video for Ozzy and the Magic Drink) – these are wonderful aids that facilitate the learning of new vocabulary and make reading easier!