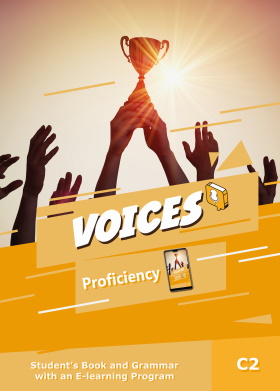 Voices C2 Proficiency
, (CPE), is a high-level qualification that is officially recognised by universities, employers and governments around the world. It provides students with an extremely high level of English for use in academic and professional settings. Along with our highly efficient e-learning program,
Learn English
, it will greatly advance students' skills and help students to communicate with the fluency and sophistication of a highly competent English speaker.
Package Components
• Student's Book and Grammar • Workbook • Companion Book • Online Teacher's Book and Grammar • Online Teacher's Workbook • Online Audio Tracks • Interactive Whiteboard/Smartboard • E-learning Card / E-learning Software • Test Card