Computer-based Exams: the future is here!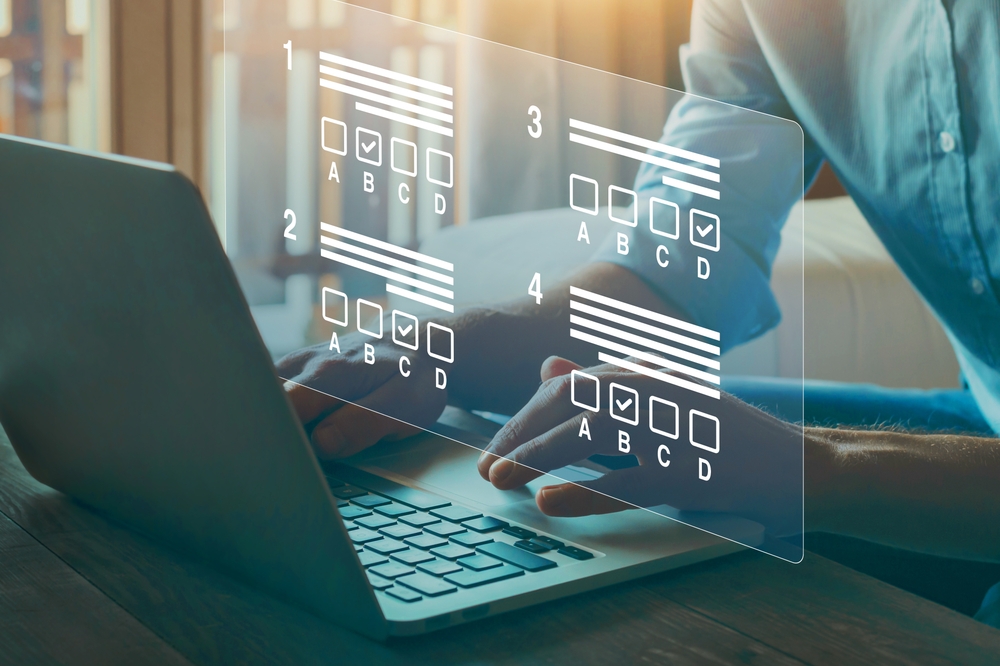 Given the post-pandemic challenges, the exponential advance of digital technology and the rapid shift to online teaching and learning, computer-based testing (CBT) has set the stage for a change. It seems that we are getting close to a tipping point.

But can the convenience that CBT brings to the table easily outshine the traditional paper-based exams? And should your students take their exams on a computer or should they stick to the classic paper-based versions?
Let's take a closer look at the growing trend of computer-based exams. Here's everything you need to know to help your English learners to make the right choice. So, without further ado, let's get started!
🖱️CBT ➡️ Who is it for?
Do your students prefer using a fancy mouse or keyboard to sitting with their pencils poised, ready to take notes? Well, a computer-based test is the right option for them!
In general, children, teenagers and young adults prefer taking computer-based exams, while older and less tech-savvy students feel more comfortable with the idea of a paper-based test.
tip 💡 All computer-based tests are designed for people with normal typing skills. If your students can easily write an email, they can sit their exam on a computer without worrying about their typing speed.
🖱️CBT ➡️ It all comes to the same thing
For most exams, the paper-based version and the computer-based version contain the same parts and there are no practical differences. Even when sitting a computer-based exam, all candidates are given paper and pens or pencils to make notes and all aspects of the exam (content, question types and scoring) are the same.
The only part that your students can't usually take on a computer is the speaking test. Well, in a world where examiners and machines coexist, face-to-face interaction is still necessary!
tip 💡 The final certificate your students will obtain will be the same in both cases. So, it doesn't matter whether your students take their test on paper or on a computer - it all comes to the same thing!
🖱️CTB ➡️ Is it a better choice?
A computer-based exam isn't easier than a written exam. However, there are some important differences you and your English learners should know about.
First of all, there are some differences in the way examinations are scheduled and conducted. When sitting an exam on a computer, there are usually more test dates to choose from. And this is important for most adult candidates, who can select the most convenient exam slot for them. In addition, tests do not need to be distributed using a courier service and your students can get their results much faster (usually in 1-2 weeks). And did we mention that most new testing centres for computer-based exams are much more impressive and less crowded?
You do know that many young students prefer typing on a keyboard to writing by hand. But there are also extra advantages when using a computer as a writing tool. Normally, students can use the Word Count tool to see how many words they've written (which helps them to stick to the word limit), they can make changes much more easily (without having to cross out anything), they can adjust the size of the fonts and they don't need to transfer their answers to a separate answer sheet. And if your English learners' handwriting is virtually indecipherable, then using a keyboard instead of a pen can make a big difference!
What's more, when taking a listening test using headphones, all candidates can adjust the volume and enjoy better sound quality.
tip 💡 Many candidates with hearing, speech, visual and kinetic difficulties prefer taking a computer-based test. But why is that? Well, special features and tools such as Braille keyboards and voice-to-text and text-to-voice applications enables all these English learners to take an exam in a much more convenient way.
🖱️CTB ➡️ Time management
Time is of the essence when taking an exam. That's why it is important for your students to not get sidetracked. For most exams, timers or time warnings on screens can help your English learners to always know how much time they have to complete each section.
And it goes without saying that sample tests for the computer-based exams your students are going to take can help them to understand what to expect on the big day and how to use their time wisely.
🖱️CTB ➡️ Going Green
Last but not least, let's bear in mind the great environmental impact of CBT. Pen-and-paper examinations simply aren't the most environmentally-friendly assessment option.
So far, more than 2,000,000 E-planet students have sat online paperless tests. That's a saving of approximately 30 million sheets of paper, saving almost 3,000 trees! Well, as a publisher of educational materials, we believe it is in our hands to set an example to all our students and ensure we pass onto future generations a better planet.
So, the age of computer-assisted assessments has certainly dawned and CBT is gaining ground rapidly. Computer-based exams are becoming a crucial part of all educational systems worldwide as they do offer numerous benefits when compared to pen-and-paper tests.
That's why your students don't have to keep sticking to the classic paper-based versions of tests. After all, it's easier than ever: We, at E-planet, are official partners with Cambridge Assessment English and all our branches are official Cambridge examination preparation centres (and, of course, official Cambridge Assessment English examination centres for CBT testing). So, what do you think? Isn't it time to join us and use CBT for all tests, including assessment tests, end-of-unit and end-of-course tests?